This weekend the Pro Tour will continue on Iceland alongside three qualifications for the European Tour.
This weekend the PDC Nordic & Baltic Pro Tour continues, as we are going to Iceland. As always there will be two Pro Tour events, with Pro Tour 5 on Saturday and Pro Tour 6 on Sunday.
Besides the two Pro Tour events, we will also see three qualification events for the European Tour. More precise it will be qualifications for the European Darts Matchplay, International Darts Open and Gibraltar Darts Trophy. Two of the events are on the program for Friday, and the last will be after Pro Tour 5 on Saturday.
Other than our three Tour Card holders Darius Labanauskas, Madars Razma and Marko Kantele, we will also see Matthías Örn Friðriksson compete at all five events.
The Icelander, who is the man behind Live Darts Iceland, has improved a lot in his level lately. Talking about his development, Matthías Örn Friðriksson tells:
"I quit playing as a semi professional footballer at the beginning of the year and now have alot more time to focus on playing darts. I have been working on my technique and I am now, after about 2 years, finally happy with how I throw and can stop thinking about it and just try to get the timing and rhythm right."
"Me and my wife had our second baby girl in April and I used the paternity leave to practice like a professional and that really made a difference. There is still a long way to go but its all going in the right direction"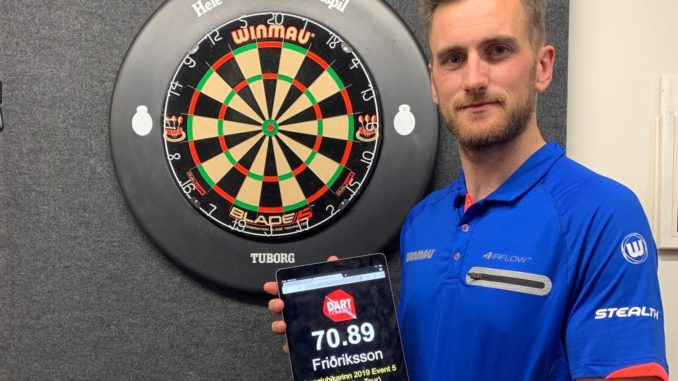 Other than playing the darts, Matthías Örn Friðriksson is also the vice president of the Icelandic Darts Association. Lately the association has been making a lot of changes in there tournaments, so the structure in their tournaments looks a lot more like the tournaments in the PDC. It is at these tournaments, that Matthías Örn Friðriksson increasing in level has been shown.
So far he has won three out of four events of the national ranking events and won four out of five tournaments on the Icelandic Pro Tour. He won one as late as yesterday with an average og 70.89.
So with this result in mind, what is his goal for the PDC Nordic & Baltic weekend at Iceland?
"My goal is to play good darts and see where it takes me. We [Live Darts Iceland] will be live streaming at least two boards this weekend, so everyone can join in on the action. Our main commentator Robbie Dove will fly over to do live commentary as well, we are very excited for the weekend."
Matthías Örn Friðriksson also has ambitions for more than just this weekend.
"The ultimate goal is to play at the World Championship, but more realistically I just want to do well on the PDCNB Pro Tour in the next few years. I will go to Q-school in January and play in some Challenge Tour events and hopefully do well, and gain valuable experience as well."
The first event of the weekend, the qualification for the European Darts Matchplay, will start at 4 pm local time. Which means 6 pm CEST.
Get a full overview of the weekend below:
Friday 23/8
Europe Tour 11 (16:00 local time)
Europe Tour 12 (19:00 local time)
Saturday 24/8
Pro Tour 5 (11:00 local time)
Europe Tour 13 (19:00 local time)
Sunday 25/8
Pro Tour 6 (11.00 local time)