Cor Dekker and Darius Labanauskas will participate in the last event on the European Tour, before the European Championship.
It is time for the Gibraltar Darts Trophy. The tournament is the last event out of 13 on the European Tour, before the European Championship in October.
As it stands at the moment, none of the players from the PDC Nordic & Baltic have managed to get themself in the top 32 on the European ranking, and therefore, there will be no Nordic or Baltic players at the European Championship. Cor Dekker and Darius Labanauskas can still qualify in theory, but they will both have to reach at least the final to have chance mathematically, so it will be rather tough.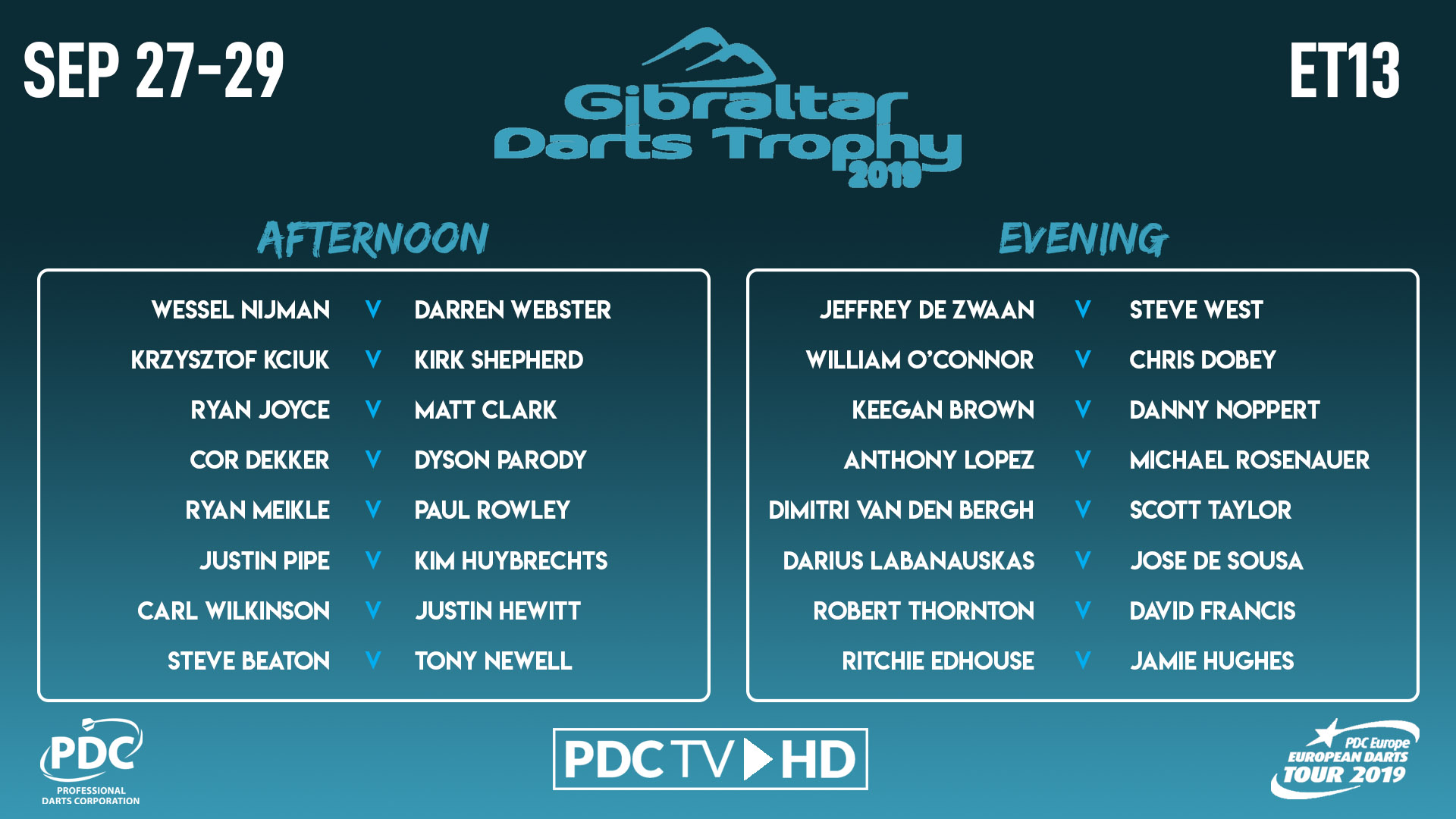 As you can see in the program Cor Dekker will be the first of the two to compete today. He will go up against Dyson Parody from Gibraltar. A player, that Cor knows a little from earlier.
"I played against him in pairs at the World Cup of Darts together with Robert Wagner. I know he can play well, but we'll see how it goes," Cor Dekker says to pdc-nordic.tv.
"My form is the same as in Austria. I think I have a chance to beat him. I know what to expect after Austria, so hopefully it will be an even better game this time. I have my wife and a friend with me to support me. So I got a better feeling this time."
Cor Dekker will play against Dyson Parody at about 2:30 pm.
Other than Cor, we will also see names such as Darren Webster, Kirk Shepherd and Steve Beaton in the afternoon session.
We will also see Justin Pipe going up against Kim Huybrecths. Both can still qualify for the European Championship, but they will both have to advantage from the first round.
In the evening session Darius Labanauskas, who qualified through the European qualification, will go up against Jose De Sousa. The two of them haven't met in a match yet, even though both of them is participating at the Players Championship Tour.
The evening session will also feature Jeffrey de Zwaan against Steve West, William O'Connor against Chris Dobey and Keegan Brown against Danny Noppert.
Dimitri van den Bergh, Robert Thornton and Jamie Hughes will also be in action this evening.
As always you can see all the matches at pdc.tv from one o'clock.
Schedule of Play
Friday September 27
First Round
Afternoon Session (13:00)    
Wessel Nijman v Darren Webster
Krzysztof Kciuk v Kirk Shepherd
Ryan Joyce v Matt Clark
Cor Dekker v Dyson Parody
Ryan Meikle v Paul Rowley
Justin Pipe v Kim Huybrechts
Carl Wilkinson v Justin Hewitt
Steve Beaton v Tony Newell
Evening Session (19:15)
Jeffrey de Zwaan v Steve West
William O'Connor v Chris Dobey
Keegan Brown v Danny Noppert
Anthony Lopez v Michael Rosenauer
Dimitri Van den Bergh v Scott Taylor
Darius Labanauskas v Jose De Sousa
Robert Thornton v David Francis
Ritchie Edhouse v Jamie Hughes