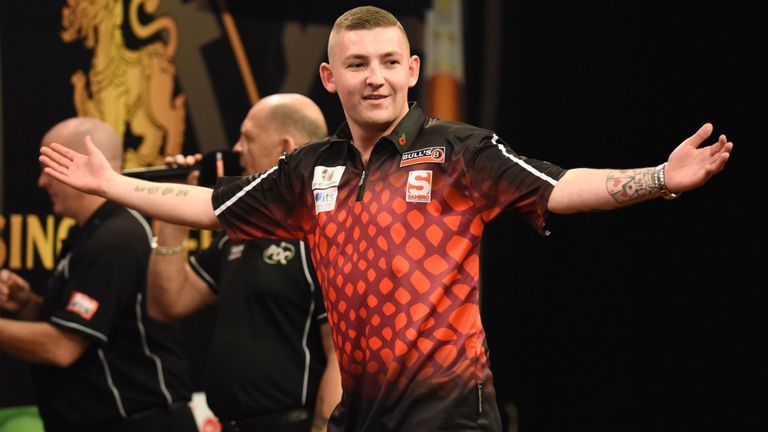 UK Open 2019 was won by Nathan Aspinall in convincing style.
If anyone had mentioned Nathan Aspinall as the winner of the UK Open when the tournament started on Friday, there would probably have been great laughs. If one had mentioned the name again this morning, before the quarter-finals, then the laugh had probably been almost as great. And if one had mentioned it before the final, then the opinion had probably also been met with some raised eyebrows.
Nevertheless, it was the way it all ended for the 27-year-old Englishman. Before today's final, Aspinall only had a single victory at the Players Championship, a single victory on the Challenge Tour and a single victory on the Development Tour.
Nathan Aspinall started beating Ross Smith in the quarter-finals, averaging just fine with 96.33. Then he had to face Gerwyn Price, who otherwise seemed to be the worst draw, as the Welshman has really been good the last couple of weeks.
Nathan Aspinall, however, started very well, and after seven legs he was ahead by 6-1. Thereafter, Gerwyn Price slowly found his way back into the match, and when the match was nearing its end, Gerwyn Price had played his way up to only be behind by one at the score 10-9. Gerwyn Price even had some opportunities to win the 20th leg, but a missed dart on bullseye became decisive when Nathan Aspinall went to the oche and won the match with a double 14.
In the final, he then faced Rob Cross, which he ended up beating 11-5. Otherwise the match started close, but at the score 2-2 Nathan Aspinall went up a gear and got up by 5-2, and although Rob Cross approached Nathan Aspinall several times, he never got really into the match, and finally Nathan Aspinall could secure the title with a 170-checkout.